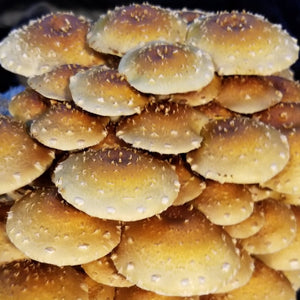 Chestnut mushrooms, also called Cinnamon Cap mushrooms, consist of bunches of mushrooms containing a small golden or chestnut brown cap with pink to dark brown gills and a thin white or beige stem. Lovers of this mushroom are drawn to its earthy and nutty taste. The chestnut is tasty and meaty, and it is palatable whether raw or cooked. These mushrooms do not have a distinctive odor, which could prove beneficial in certain dishes. The Chestnut mushroom has a long history; its cultivation began with the Greeks and the Romans! Now they are cultivated around the world and are revered for their versatility and purported medicinal benefits.
Health Benefits
The Chestnut mushroom contains a number of vitamins, phytochemicals, and minerals. It is particularly rich in Copper and Vitamin B5, but you'll also be adding Folate, Biotin, Vitamin B3, Selenium, Potassium, and Vitamin B2 to your diet when you eat your Chestnut mushrooms.
Many of the elements in the Chestnut mushroom have medicinal value: it is said to have anti-inflammatory, antifungal, antibiotic, and anti-tumor properties. In addition, this species of mushroom may be beneficial in slowing the progression of osteoporosis.
It is important that you store your mushrooms correctly to retain their benefits and nutrients. Store your Chestnut mushrooms in a paper bag in the refrigerator and do not allow them to take on moisture.
Texture and Recommended Preparation
Chestnut mushrooms have a meaty texture and are reminiscent of a more flavorful and darker button mushroom. As such, they're an extremely versatile mushroom and can be used in a number of dishes: salads, pastas, sauces, quiches, casseroles, and soups will all benefit from the addition of a few Chestnut mushrooms. They will remain firm when cooked in any dish. When sautéed, Chestnut caps crisp up nicely. Use our gourmet Chestnut mushrooms as a replacement for button mushrooms in all your favorite dishes and your taste buds will thank you!