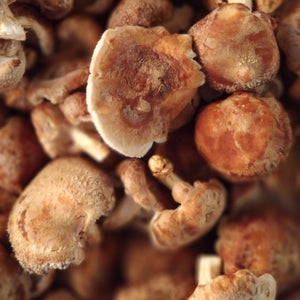 The Shiitake is a mushroom powerhouse. Its flavor is strong in umami, yet not overpowering, and it can be prepared using a number of cooking techniques. The cap of the Shiitake is colored dark brown and rounded at the top when they are newly formed, but the color fades and the cap flattens out as the mushroom ages and dries. 
Shiitake mushrooms are native to East Asia and have been consumed in many Asian countries for centuries. Now this dense brown mushroom is enjoyed all over the world in a variety of dishes. In fact, Shiitake mushrooms contribute about 25% of the world's yearly production of mushrooms!
Health Benefits
In addition to its culinary charms, Shiitake is one of the best known of the medicinal mushrooms. It is used to treat a variety of conditions ranging from high blood cholesterol to cancer and is a tonic that stimulates the immune system and protects from viruses. The Shiitake is also a very nutritious mushroom. Aside from being low-calorie, Shiitake mushrooms provide high amounts of fiber as well as B vitamins and other minerals. They also contain many of the same amino acids as meat; this makes them a nutritious addition to a balanced vegetarian diet. 
Texture and Recommended Preparation
Shiitake mushrooms are not just an aid to your nutritional needs. They can also be added to a wealth of recipes. The Shiitake's texture can range from delicate to meaty to crisp depending on the preparation. It is commonly utilized in stir-frys, soups, and noodle dishes, but it's well suited to nearly any type of cuisine. Shiitakes are also an excellent meat substitute for vegetarians. You can chop up the mushrooms and sauté them in butter, throw them straight into your favorite dish as it's cooking, or crisp the caps up whole for a delicious snack!
Recipes